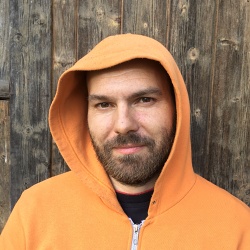 Po absolvování SVOŠF Písek, které mi trvalo o rok déle než ostatním studentům, jsem zjistil, že mě spíše baví technická stránka kamery než ta kreativní, a tak jsem se vydal na dráhu asistenta kamery.

Škola mi velmi pomohla k získání prvních zkušeností a kontaktů. Poznal jsem tu lidi, se kterými dodnes spolupracuji. Díky zkušenostem s filmovým materiálem jsem se ještě při škole dostal jako zakladač na několik komerčních projektů, kde jsem sbíral další zkušenosti. Dále jsem ještě při škole začal ostřit studentské filmy na FAMU. Na SVOŠF Písek jsem začal studovat v roce 2000. Od té doby jsem se podílel jako první nebo druhý asistent kamery na vzniku několika desítek celovečerních filmů a stovek reklam a videoklipů.
Všem studentům vzkazuji: Užijte si studentská léta a jděte do každé výzvy na 100 %. Je to jedinečná šance zkusit, kam se dají posouvat hranice, a nakonec se poučit z chyb.

Oblíbená věta z praxe: Pracujeme v zábavním průmyslu, tak proč to (píp) není legrace.

Filmografie:
https://www.imdb.com/name/nm1826154/
Since 2000 Loader:
Movies – Hui Buh, Revelations, Omen, Babylon A.D., Chronicles of Narnia:Princ Caspian, Jumper, Jingle all the way, G.I. Joe, Borgia, etc.
Commercials – Garnier, Givenchy, Panasonic, HALO Reach, ING, Tesco, Keiju, Caisse d'Epargne, Superstar, Lucozade Sports, GAS, Castello, Audi A6, Eurotel, Avon, Vodafone, Jägermaister, Budweiser, T-mobile Super star, Londa, Pantene, Tre, Dinners Club, Matalan, Kohl's, Direct, Alli, Perfect nail, Pantene Napoleon, Flora, Škoda, O2, Activia, AXN, Českomoravská stavební spořitelna, Bohemia, Kirin, Tesco, Pantene Atlas, Douwe Egberts, Becherovka, Kika, Mirinda, Coppa del nonno, GTS, Seznam, Centrum, Besip, Danone, Nescafé, Nestle, Poligrip, Harpic, Veet, Cosmopolitan of Las Vegas, etc.
Music Videos – Linkin Park, Faithless, Lenny Kravitz, Ohm Square, Assala Nassri, Clara, etc.
Since 2003 – Focus Puller:
Commercials – Microsoft, Pantene, Astor, T- Mobile, Buchanans, Jacobs, Albert, Era, Metro, Lipton, Swatch, Bité, Yoplait, Marabou, France 5, Elle, ČEZ, Nintendo, Letiště Praha, Mills, O2, Citroen, Lenor, Shamtu Blossom, Bohemia Crispers, Semtex, EXPO, ZOO WAZA, LG, NOVA Subbrand Jingles, Wüstenrot, Colgate, Míša, Jamall, Rako, Blesk, NOVA 18 years, Against AIDS, Česká Pojišťovna, Sparta, Brufenol, Urinal, Ibalgin Grip, KB, Kinder Schokolade, Škoda Rapid Spaceback, ČT 4 Sport, Canon, Dry Lock, Gambrinus, Zenonade, Raiffeisen, Prag Infoservice, Kofola, Douwe Egberts, MISS 2013,Life style sports, Orion,
Makro, Kooperativa, IKEA, GE Money Bank, Pardál, Aeroplan, T-Mobile Q3, Lego, Master Chef, Škoda Octavia, ČSOB, Electroworld, GO!, Keurig, ČT 2, Honda, Paralen Grip, T-mobile Q4, JoJo, Kozel, Kostelecké uzeniny, Braun, Mini Cooper, Jablotron, Eko-kom, Vodafone Vánoce, Tesco, Billa, Nescafé, Creme Bonjour, Samsung, Zonky, Ahold, České Dráhy, Míša, Škoda – Tour de France, Evropa 2, Merkur, Prima ID, Stará myslivecká, Calphalon, Škoda, Mall.cz – Black Friday, Dr. Max, Staropramen, Vanish, ČAP, McDonalds – McFlurry, Birell Cola, Marťánci, Penny, Madeta, Provident, ČT – Vánoce 2019, C.S. Cargo, Škoda HR, T-Mobile Q4, Lidl, Moneta, Equa Bank, Kaufland, Kunín, TV Nova – News, Sunar, HP – Europe, Figaro, Zonky, Jupí, Staropramen Cool, Slido, Billa – Vocílka, Moneta MB – Investiční fondy, Staropramen etc.
Music Videos - Roger Watters, Apocaliptica, Oomph, Shokhak, Mozart:L'Opera Rock, Visací Zámek, The Tap Tap, Louskáček, Support Lesbians, Petr Muk, Kabát, PVK, Vladimir 518, Jaromír Nohavica, Leona Machálková, Jana Kirschner, Dara Rolins, Lucie Bílá, Divokej Bill, Wohnout, Čistychov, etc.
Movies and Series:
Title – Category – Country – Position - Location
2003
Elevator - Short (Norway) 1st AC (Czech Republic)
2005
Kolem domu – Documentary (Czech Republic) 1st AC (Czech Republic)
Dámský gambit - TV Movie (Czech Republic) 1st AC A cam (Czech Republic)
Ordinace - TV Series 20 Episodes (Czech Republic) 1st AC Exterior Unit (Czech Republic)
2006
Ordinace – TV Series 10 Episodes (Czech Republic) 1st AC Exterior Unit (Czech Republic)
Swingtime - TV Movie (Czech Republic) 1st AC (Czech Republic)
Den jednoho herce - Short (Czech Republic) 1st AC (Czech Republic)
Maharal - (Czech Republic) 1st AC 2nd Unit (Czech Republic)
Škodná – TV Movie (Czech Republic) 1st AC (Czech Republic)
2007
Babylon A.D. (France, UK) 1st AC Add cam (Czech Republic)
Josephine, Le secret des Templiers - TV Series (France) 1st AC 2nd Unit (Czech Republic)
Taková normální rodinka (Czech Republic) 1st AC A cam (Czech Republic)
Venkovský učitel (Czech Republic) 1st AC Reshooting (Czech Republic)
Expozitura - TV Series Pilot (Czech Republic) 1st AC (Czech Republic)
2008
Inside Hana`s Suitcase - Documentary (Canada) 1st AC (Czech Republic, Poland)
Dokonalý svět - TV Series Pilot (Czech Republic) 1st AC (Czech Republic)
František Kupka - Documentary (Czech Republic) 1st AC (Czech Republic)
Divnovlásky - TV Movie (Czech Republic) 1st AC (Czech Republic)
Sněžná noc - TV Movie (Czech Republic) 1st AC B cam (Czech Republic)
3+1 s Miroslavem Donutilem - TV Series 3 Episodes (Czech Republic) 1st AC (Czech Republic)
2009
Na vlky železa - TV Movie (Czech Republic) 1st AC (Czech Republic)
Doktor od jezera Hrochů (Czech Republic) 1st AC B cam (Czech Republic)
O nudlovém království - TV Movie (Czech Republic) 1st AC (Czech Republic)
Dokonalý svět - TV Series 16 Episodes (Czech Republic) 1st AC (Czech Republic)
Nebe - TV Series Pilot (Czech Republic) 1st AC (Czech Republic)
2010
Ach, ty vraždy! – TV Series 2 Episodes (Czech Republic) 1st AC B cam (Czech Republic)
Kriminálka Anděl – TV Series 1 Episode (Czech Republic) 1st AC A cam (Czech Republic)
Rodina je základ státu (Czech Republic) 1st AC Arial Unit (Czech Republic)
Sráči - TV Movie (Czech Republic) 1st AC (Czech Republic)
Black Milk - Short (Norway) 1st AC (Norway)
Lidice (Czech Republic) 1st AC B cam (Czech Republic)
Zdivočelá Země IV - TV Series 2 Episodes (Czech Republic) 1st AC B cam (Czech Republic)
Czech Made Man - (Czech Republic) 1st AC B cam (Czech Republic)
2011
Čapkovy kapsy - TV Series 1 Episode (Czech Republic) 1st AC (Czech Republic)
Perfect days (Czech Republic) 1st AC A cam (Czech Republic)
Partition – Short (UK, Czech Republic) 1st AC (Czech Republic)
Tajemství staré bambitky - TV Movie (Czech Republic) 1st AC (Czech Republic)
Voice - Documentary (Germany) 1st AC (Norway, Czech Republic)
Viy 3D (Russia) 1st AC B cam (Czech Republic)
Zaletchiki (Russia) 1st AC A cam (Czech Republic)
2012
Kovář z Podlesí (Czech Republic) 1st AC (Czech Republic)
Odpad, Město, Smrt (Czech Republic) 1st AC B cam (Czech Republic)
Nevinné Lži – TV Series 3 Episodes (Czech Republic) 1st AC A cam (Czech Republic)
BKA 49-77 – Short (Czech Republic) 1st AC (Czech Republic)
Nordland (Germany) 1st AC (Norway)
Revival (Czech Republic) 1st AC B cam (Czech Republic)
The Last Knights - (Korea,USA,UK) 1st AC B cam (Czech Republic)
2013
Škoda Lásky – TV Series 2 Episodes (Czech Republic) 1st AC (Czech Republic)
Sturm Frei - TV Series 4 Episodes (Germany) 1st AC B cam (Czech Republic)
Až po uši - HBO Series 13 Episodes - (Czech Republic) 1st AC A cam (Czech Republic)
2014
Nevinné Lži II. – TV Series 1 Episode (Czech Republic) 1st AC A cam (Czech Republic)
Abschussfahrt (Germany) 1st AC C cam (Czech Republic)
Transporter The Series - Season 2 – TV Series 8 Episodes (Can,Fr,USA,Ger) 1st AC B cam (Morocco, Czech Republic)
Sedmero krkavců (Czech Republic) 1st AC B cam (Czech Republic)
Kriminálka Anděl IV. – TV Series 2 Episodes (Czech Republic) 1st AC A cam (Czech Republic)
The Musketeers - Season 2 – TV Series 4 Episodes (UK) 1st AC 2nd Unit (Czech Republic)
Škoda Lásky II. – TV Series 2 Episodes (Czech Republic) 1st AC (Czech Republic)
Tordenskiold (Denmark) 1st AC B cam (Czech Republic)
2015
Mamon - HBO Series 6 Episodes - (Czech Republic) 1st AC A cam (Czech Republic)
Tenkrát v Ráji - (Czech Republic) 1st AC A cam (Czech Republic)
2016
Pustina – HBO Series 2 Episodes - (Czech Republic) 1st AC A cam (Czech Republic)
The Orphan Chef – (Hong Kong) 1st AC B cam (Czech Republic)
Britannia - TV Series 2 Episodes (UK) 1st AC 2nd Unit (Czech Republic)
Winter Flies - (Czech Republic) 1st AC A cam (Czech Republic)
2017
Až po uši 2 – HBO Series 10 Episodes - (Czech Republic) 1st AC A cam (Czech Republic)
Milada – (Czech Republic) 1st AC A cam (Czech Republic)
T-34 - (Russia) 1st AC C cam (Czech Republic)
Ich und R – TV Movie (Germany) 1st AC B cam (Czech Republic)
Walpurgisnacht – TV Movie (Germany) 1st AC A cam (Czech Republic)
2018
Death of a Nation – Documentary (USA) 1st AC A cam (Czech Republic, Germany)
Noel 2 – TV Movie (France) 1st AC B cam (Czech Republic)
Terrorism Close Calls – Documentary Series 2 Episodes (USA) 1st AC A cam (Czech Republic)
Staříci - (Czech Republic) 1st AC A cam (Czech Republic)
Ottilie von Faber – Castell - TV Movie (Germany) 1st AC additional A cam (Czech Republic)
Dáma a Král 2 - TV Series 1 Episode (Czech Republic) 1st AC B cam (Czech Republic)
Národní třída - (Czech Republic) additional 1st AC A cam (Czech Republic)
Charlatan - (Czech Republic) 1st AC A cam (Czech Republic)
Carnival Row - (USA) Series 1 Episode 1st AC B cam 2nd unit (Czech Republic)
2019
Vlastníci - (Czech Republic) 1st AC B cam (Czech Republic)
The Wall - TV Series 3 Episodes (Germany) additional 1st AC B cam (Czech Republic)
Atlantic Crossing - (Norway) additional 1st AC B cam (Czech Republic)
Charlatan - (Czech Republic) 1st AC B cam (Czech Republic)
Der Zürucg Krimi - TV Series 2 Episodes (Germany) 1st AC B cam (Czech Republic)
Emanuel Moravec – Anatomie zrady – TV (Czech Republic) 1st AC B cam (Czech Republic)
Poslední den patriarchátu - (Czech Republic) 1st AC A cam (Czech Republic)
Zátopek - (Czech Republic) 1st AC C cam (Czech Republic)
Generál - (Slovakia) 1st AC B cam (Slovakia)
Karlos – Documentary (Czech Republic) 1st AC (Czech Republic)
2020
Admin - (Czech Republic) 1st AC A cam (Czech Republic)
Architektura 58-89 - Documentary (Czech Republic) 1st AC (Czech Republic)
Unititled Army of the Dead Prequel - (Germany) 1st AC A cam 2nd Unit (Czech Republic, Germany, Austria)
2021
Zerv - (Germany) 1st AC B cam (Czech Republic)